Fresh details have emerged that suggest that signatures on documents that were used to effect the payment of an amount of ¢10m by the Northern Development Authority (NDA) were forged.
The alleged infraction was made to inflate the figures.
Copies of multiple receipts intercepted by Myjoyonline.com shows that over the ¢10 million contract was allegedly bloated from the initial ¢5.7 million estimate under the supervision of the current NDA CEO Sumaila Abdul Rahman.
On June 30, it was reported that the Controller and Accountant General's Department was readying to make a payment which will further entrench some irregularities at the NDA despite the Authority's former CEO having petitioned the Chief of Staff, Akosua Frema Osei-Opare, over a fraud issue involving his successor.
Dr Sulemana Anamzoya, in the petition, accused his successor, Sumaila Abdul Rahman, of falsifying figures and forging his signature to cash in a ¢10,400,000 contract.
The two-page petition, which was copied to President Akufo-Addo, detailed how the Sumaila Abdul Rahman-led management committed the fraud in his name.
"Quite recently, my attention has been drawn to a contract purportedly signed by me while I was in office as Ag. Chief Executive Officer of the Northern Development Authority (NDA), awarding a Consultancy Service contract to A&Q's Consortium (A&Q's) in the sum of ¢10,400,000 under the Infrastructure for Poverty Eradication Programme (IPEP)," portions of the document sighted by JoyNews read.
According to him, the only contract he awarded to A&Q's firm while in office was a sum of ¢5,720,000.
In the petition, the former CEO also noted that the Public Procurement Authority (PPA), on January 16, 2020, gave approval to NDA to use single-source procurement to recruit various consultancy services to implement the IPEP programme.
Dr Anamzoya said he engaged A&Qs to provide Consultancy Supervision for 11 constituencies in the Upper West Region at an estimated cost of ¢5,720,000.
"Even though the award letter I signed has an amount of ¢5,720,000, I have sighted a doctored version of the award letter which indicates that I purportedly signed a Consultancy Supervision Contract to A&Q's under the IPEP at the cost of ¢10,400,000 which I vehemently deny as having emanated from me (please find attached the doctored contract document).
Sources say about 30% of the money was already paid in May 2021 to the Authority.
The New Crusading Guide's sources at the CAGD revealed that "…we [Controller and Accountant General's Department] paid the first 30 per cent and would pay the next 50 per cent to A&Q consortium as spelt out in the contractual document next week."
From the foregoing, if this payment is effected, the cumulative amount will go beyond the ¢5.7 million agreed by the Public Procurement Authority (PPA) since ¢3 million of the doctored ¢10 million had already been paid to the consortium.
Below are copies of receipts from the transactions: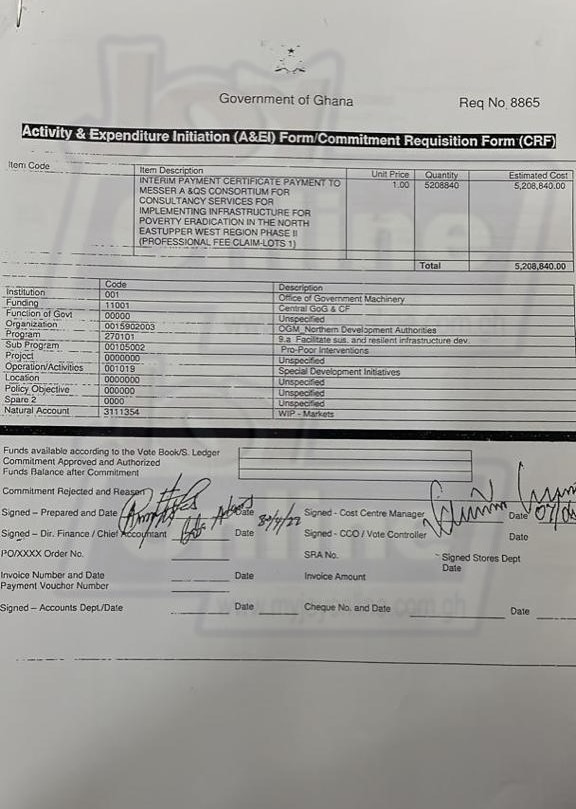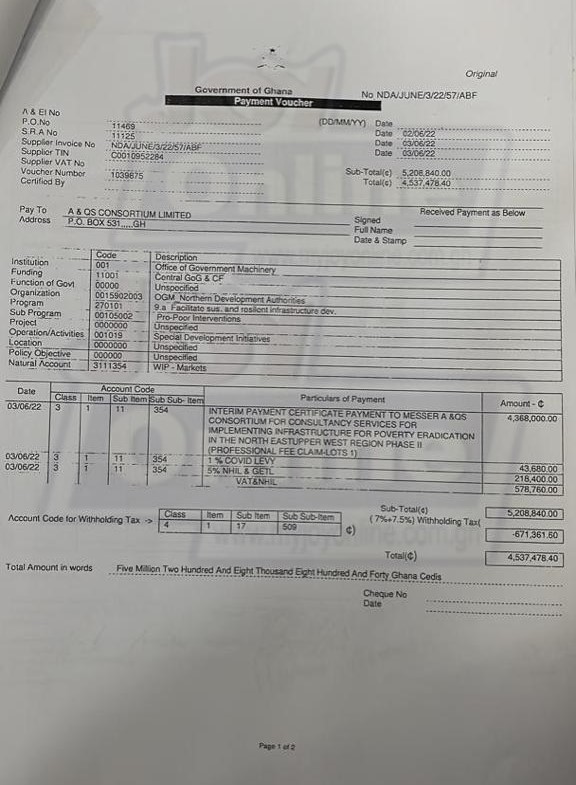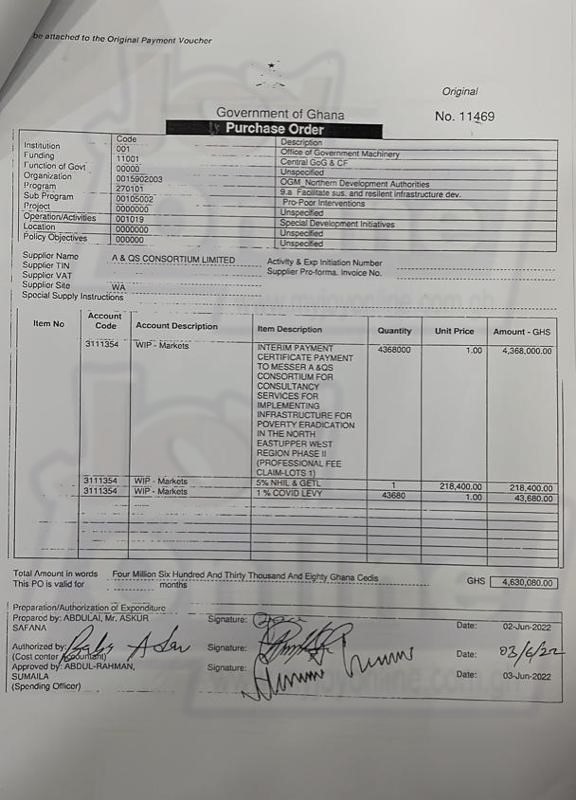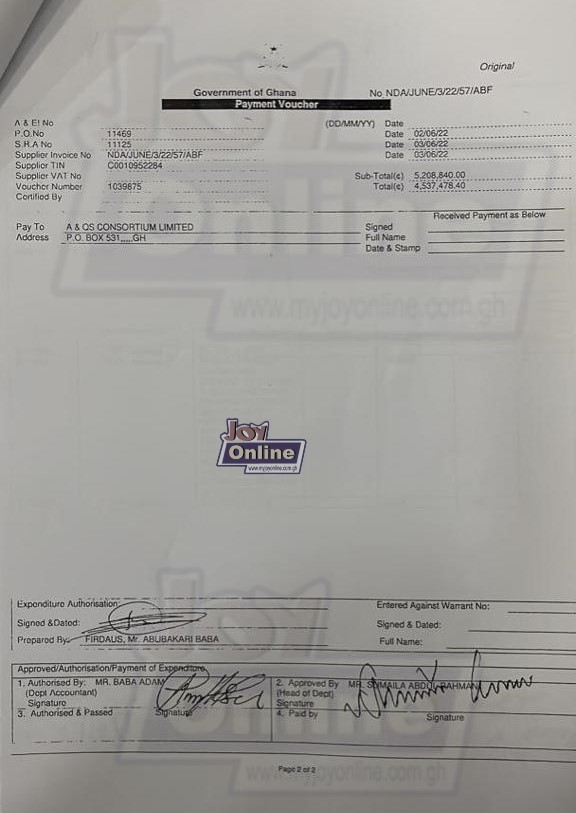 Source: Myjoyonline.com