The Black Stars sold-out the Baba Yara stadium on their return to Kumasi for the first leg of the World Cup qualifying play-off versus Nigeria.
Contrary to fears before kickoff, the team led by Otto Addo put up a very encouraging performance and despite failing to convert any of their 10 shots on goal, they impressed fans who thronged to show their support.
Perhaps the game's most dramatic moment came in the second-half where referee, Redouane Jiyed overturned an earlier decision to award the Super Eagles a penalty after consulting VAR. Before that however, goalkeeper Joseph Wollacott rescued the Stars with a good save after the team lost the ball in midfield.
The Super Eagles will feel hard done by with the penalty decision, but VAR made the right call as Baba Iddrisu was fouled prior to handling the ball in the 18-yard box.
A nervy encounter Otto Addo will be proud of but one Augustine Eguavoen could be scratching his head over, despite leaving Kumasi with a clean sheet. How did the Black Stars setout to play however?
Starting lineups
The Super Eagles setup in a 4-2-3-1, one which served them well in their 100% run at the 2021 AFCON group stage. Lorient's Innocent Bonke stepped in for the injured Wilfried Ndidi, with Iheanacho playing just behind Osimhen.
The much-talked about Moses Simon and Villareal's Samuel Chukwueze were the two wingers for Nigeria.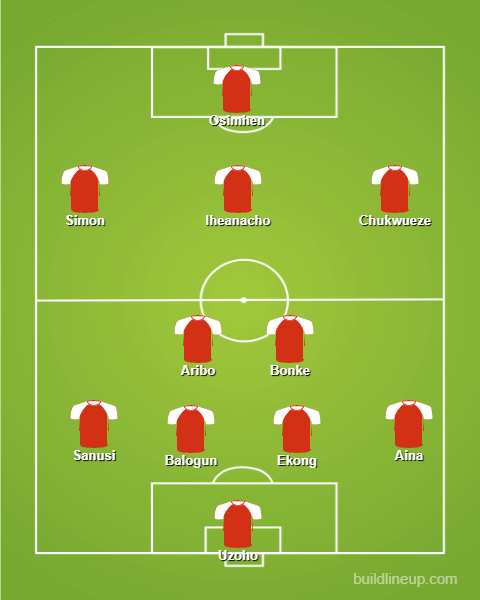 Despite a 4-2-3-1 shape on paper, Nigeria intended to play in a 4-4-2 with Iheanacho dropping in-between midfield lines, operating more as a deep-lying forward while Osimhen spearheaded the attack.
The Black Stars put up the same 4-2-3-1 on paper with Afena-Gyan making his debut for the national team. He was supported in attack by Jordan Ayew and Fatawu Issahaku.
Thomas Partey and Baba Iddrisu were the pivot in midfield.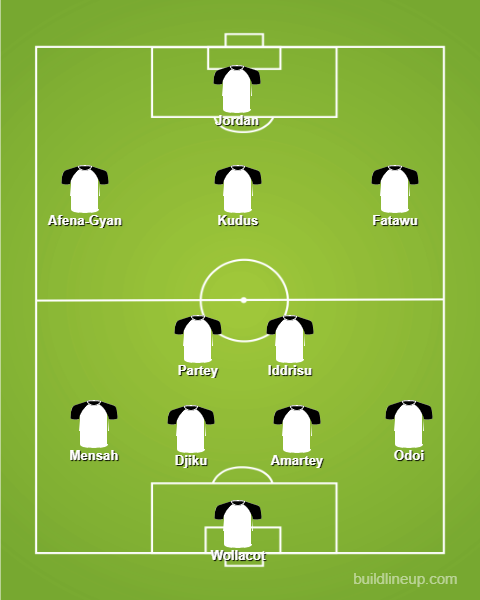 As this was meant to be Addo's first game in charge of the Black Stars, it was very hard to call how the team were going to approach the game. But in the first few minutes, the Black Stars showed their intent.
Approach Play
Eguavoen, probably because he had no to little information as to how the Stars were going to play under new leadership, setup pragmatically.
The Super Eagles had to deal with sustained pressure from the Stars early on and had little joy breaking on transitions. Osimhen was left isolated for large periods of the first half and the shape of the Black Stars contributed to it.
Despite having a 4-2-3-1 on paper, the Black Stars alternated with a 3-1-4-2 while in possession. The team were reported to be training in both a 'back 4' and 'back 3' prior to the game.
However instead of opting to go with a single one, Addo decided to utilize the two. That decision highlights the Ghanaian's tactical flexibility and it boded well for the team.
In possession, the Black Stars' switch to a 'back 3' was facilitated by Iddrisu dropping between Amartey and Djiku. This enabled the fullbacks; Gideon Mensah and Denis Odoi, to push higher up and operate as wingers.
Partey was left as a sole pivot with Jordan Ayew and Kudus in the half-spaces. Afena-Gyan and Issahaku were deployed as a striking pair.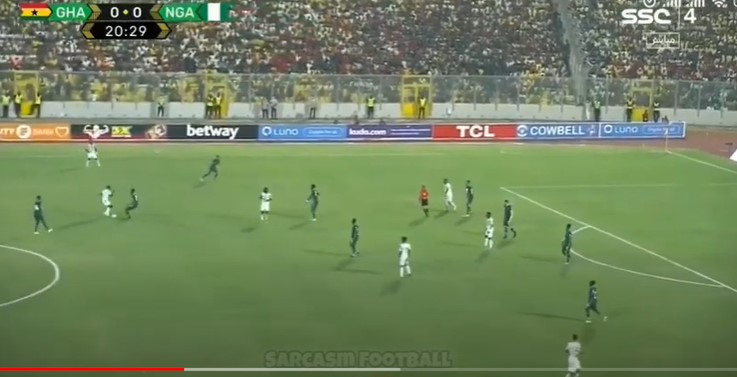 This 3-1-4-2 shape gave the Black Stars control in midfield. In the first half, Ghana hogged the ball with 63% of possession and had 95 more passes than the Super Eagles, who managed to complete 131.
At fulltime, the Black Stars had completed 380 passes as against Nigeria's 294.
In addition the alternated shape was the key to isolating Osimhen, as once the team lost the ball, there were enough bodies immediately in and around Osimhen and other opposition forwards to gather lose balls.
There were also the added support of Kudus and the fullbacks dropping to provide additional cover and support. The Black Stars won 31 duels and 11 aerial balls as compared to 16 and 2 respectively for Nigeria.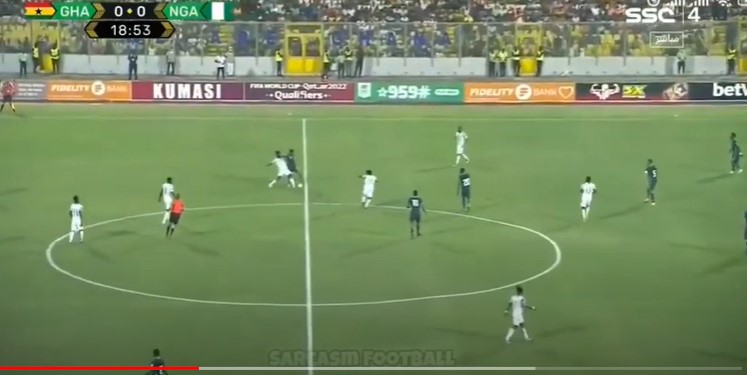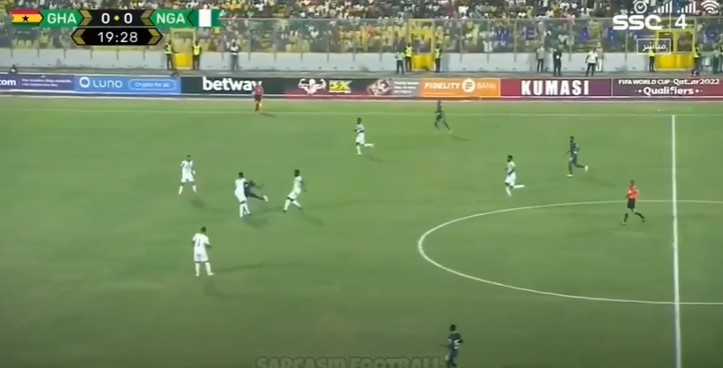 Besides this control and defensive cover, the 3-1-4-2 also meant that the Black Stars' build-up could be easier. With Iddrisu dropping into defence, the Black Stars basically formed a diamond with Partey at the top meaning, should Nigeria's wingers in Chukwueze and Moses step out to press, Mensah and Odoi will be free to receive a pass out wide.
From these sequences, Mensah in particular was able to benefit as he always had time to deliver crosses into Nigeria's box. He delivered the second most crosses in the game (3) behind Jordan Ayew (8). Bare in mind that Jordan was on set-piece duty.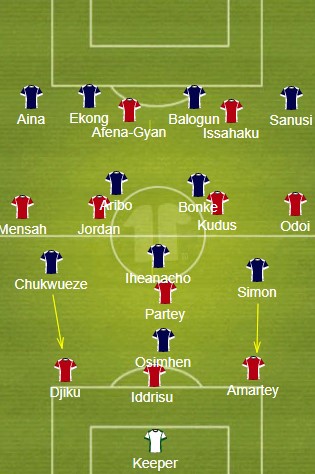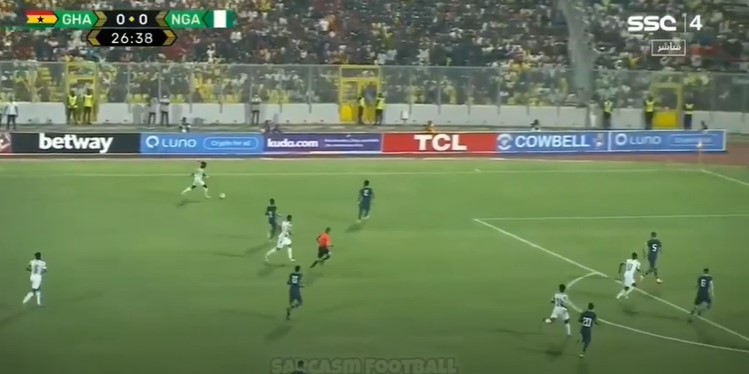 There were situations where Nigeria's fullbacks in Aina and Sanusi looked to close down Mensah and Odoi. In those situations, it meant that spaces opened up in the channels between Nigeria's center-backs and fullbacks.
In such moments, Afena-Gyan and Issahaku were left in one-on-one situations versus Nigeria's center-backs and that happened on a number of occasions.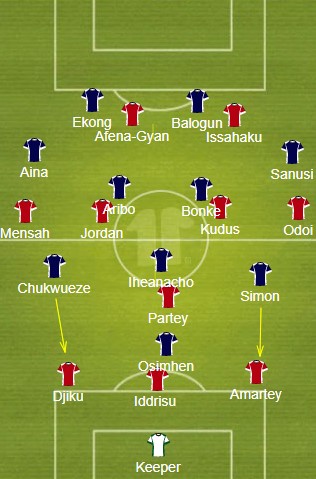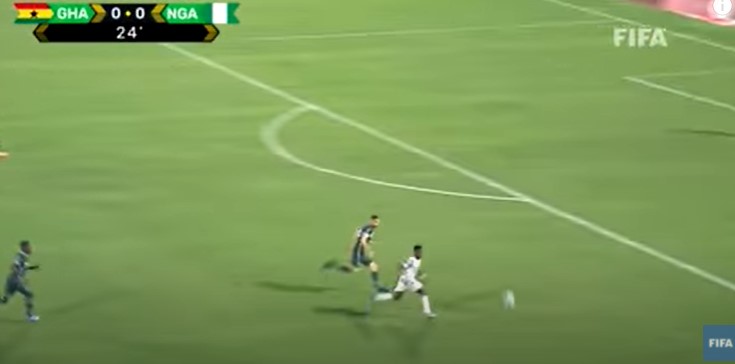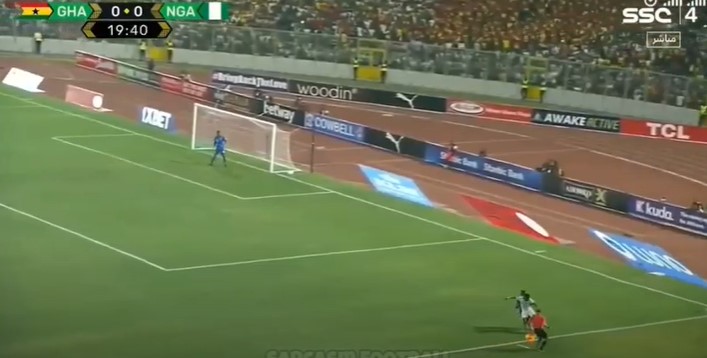 Afena-Gyan also had moments like this versus Ekong in the first-half. Here's just one of such moments.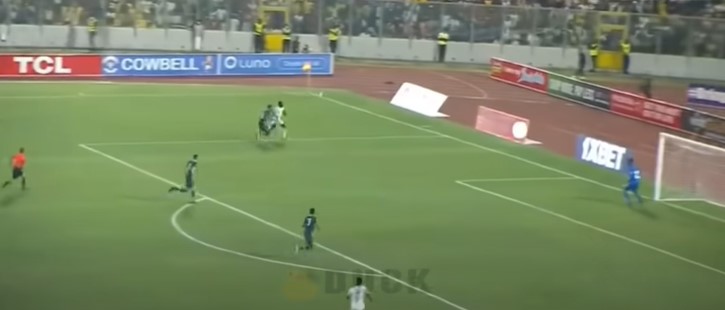 Defending
When defending against the ball in their half, Ghana reverted to the traditional 4-2-3-1. Nigeria failed to threaten through midfield.
All of their threat came from the flanks especially in the second-half where they looked to exploit Odoi. The Club Brugge defender however stood his ground and had a very solid debut, shutting down Simon. He had the highest rating of all Black Stars players (7.6).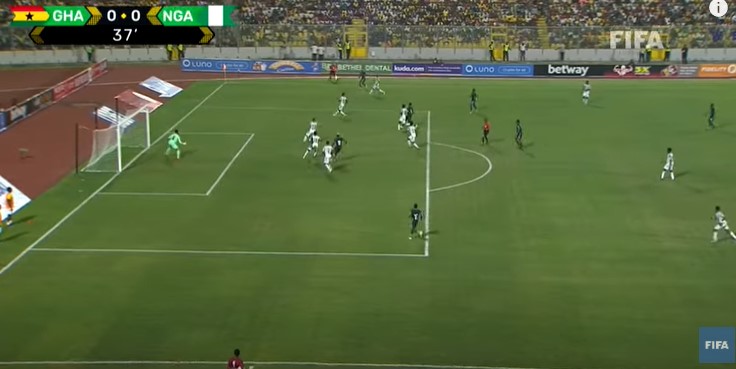 The Super Eagles relied heavily on their wings to create chances as they kept on spamming Ghana's box with crosses. They had 14 crosses in total as compared to Ghana's 17. Pay attention that Ghana had seven more corners than Nigeria's two.
It was the responsibility of Iddrisu and Partey to track respective midfield runs in the odd moments Nigeria created centrally. The duo were effective in their roles as together, they posted six tackles, three each. Bonke and Aribo managed only two between them.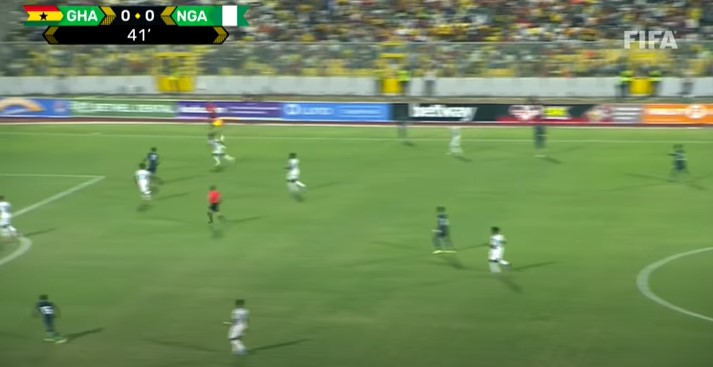 They also won more ground duels (17) than Nigeria's midfield duo (4).
Short-comings
The game-plan of the Black Stars was clear right from kick-off and they managed to execute to near perfection. However there were some nail-biting moments for the team, especially while trying to build up.
Despite the numerical advantage the 3-1-4-2 gave the Black Stars, Partey as a sole-pivot in midfield meant that Ghana was very exposed anytime the ball was lost in midfield. The Black Stars escaped twice, once via Wollacott's impressive keeping and the other via VAR.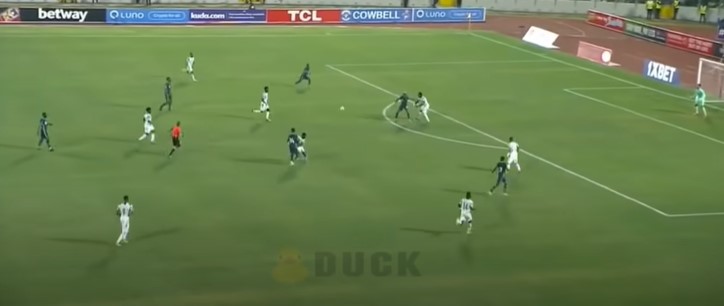 Besides the occasional untidiness in midfield, the Black Stars failed to make the most out of set-pieces. Corners were either overhit or under-hit, barely giving players a chance to attack them.
Besides deliveries from set-pieces, deliveries from open play were not so good enough. Mensah who had a good game, was a main culprit but perhaps the quality will come with time.
And finally, the Black Stars were made to pay for the inexperience in attack. Despite all their efforts, the young attacking pair of Afena-Gyan and Issahaku found it difficult to convert. It is no fault of theirs however, as they are now taking their first steps in senior national team football.
Conclusion
It was a disciplined performance from the Black Stars, who had everything to fight for. Perhaps it could be early days but it seems Addo has managed to carve out a tactically disciplined side on all fronts in only a few days.
Bar those few shaky moments in defense, the Black Stars looked very assured and drilled throughout the game. More impressively they managed to keep a clean sheet after failing to do so in the entirety of AFCON 2021.
Looking ahead, the return of Daniel Kofi Kyereh will be of good tactical boost to Addo and the Black Stars technical team. Kyereh, despite having the profile of an attacking midfielder, can also be effective as a box-to-box midfielder as he showcased at the Africa Cup of Nations.
Meaning, the Black Stars might not have to risk it and play Partey as a sole pivot if they maintain a similar approach in Abuja. So it is possible Addo will pick a slightly different first team on March 29 in Abuja.
Source: Mishael Quaynor